We are living in a rather strange and uncertain time at the moment. Everyone (or almost) is or risks being locked away at home in an effort to flatten the curve and limit the spread of the coronavirus as much as possible. Now that IRL dating is no longer possible for the foreseeable future, we are all looking for creative new ways to connect with friends and family. But let's face it: talk to each other on FaceTime and say hi to your friend / neighbour when you walk past your window and walk the dog, that's two minutes. Fortunately, we have a tool that did not exist during previous pandemics in history: the internet, and we do not do better to stay connected (remotely).
A lot has changed, but some things can stay the same. We don't have to give up gaming nights, for example. And that's what gave us the idea to create a list of the best multiplayer mobile games, virtual board games, and streaming games.
Read on for some game ideas that will make your next gaming night even more fun – just to keep you and your friends entertained as you wait for the coronavirus to end.
1- Jackbox Games
Jackbox Games is one of the best remote social games. The multiplayer party game is incredibly easy to learn but still entertaining. It's also easy to stream or share games from device to device, and everyone plays through the web browser on their phone; So there is no need for apps or controllers, you can even mirror your Android or iOS device to your TV.
Here's how the Jackbox Party Pack works: One person must purchase one of six Jackbox Party Packs or one or more single games on Steam (for PC, Mac, and Linux). Bundles contain five games and usually cost $25 each, but are currently on sale for $12.
Bundles are also available on PlayStation, Xbox, Nintendo Switch, Apple TV, Amazon Fire TV, and other devices.
After purchase, you can use video chat software through a Zoom call, Skype, Google Hangouts, or wherever you like to make a video call. Everyone on their mobile device using a browser and going to Jackbox.tv; Where you will be asked to enter the room code.
Other options include using Steam Remote Play Together, sharing your Discord screen, sharing through your game console, or just setting up a webcam in front of your TV, and Jackbox provides information on how to stream its games as well.
Each package includes a variety of different games that may ask you to answer trivia questions, draw weird drawings, or write the best joke. The games are light and fun and include clear instructions; So it is easy for most novice players to pick up.
2-Among Us
If you're a fan of games like Mafia or Werewolf, you'll love Among Us, an online multiplayer social game from developer InnerSloth. Play as a crew member on a spaceship, sky headquarters, or planet base, trying to keep your ship together and return to Earth with a group of four to 10 people (either those you know IRL or strangers online).
But one crew member has been replaced by a shape-shifting parasitic alien who wants to wipe out the rest of the crew before the ship gets home. The problem is, the crook looks just like everyone else, and will sabotage the ship, sneak through hatches, cheat fellow players and try to frame others, all in an effort to stay undetected and kill the rest of the crew.
In the meantime, non-foreign crew members must perform tasks to repair the ship, and can only speak if a death is reported. Then, the surviving crew can openly discuss who they think the scammer is, and make their best guess as to who will vote off the ship. If the crook is voted on, the crew wins. But if the group mistakenly votes for a crew member, everyone goes back to keep the ship until another body is found.
They vote again.
You can play on iOS and Android devices (you can download it from the App Store or Google Play Store). Or you'll spend $5 to play on a PC (you can download it on Steam or itch.io). One of the main advantages is that you can play with people seamlessly across different platforms.
Be warned, the free mobile version has ads, and once you download and open the game on your device, you'll see a pop-up detailing AdMob usage and data collection. If you'd like to turn off ads and data collection, you can purchase the ad-free version of the app for $2 by clicking Remove Ads, and following the prompts to select your payment method.
Although this game came out two years ago, it was picked up by Twitch Streamers over the past few months, and it has now been downloaded more than 86 million times.
3- The Escape Game
Put your puzzle solving skills to the test with a virtual escape room. Try to solve all the puzzles and follow the clues to escape the computerised room before the time runs out, as you would when you play the real-world version.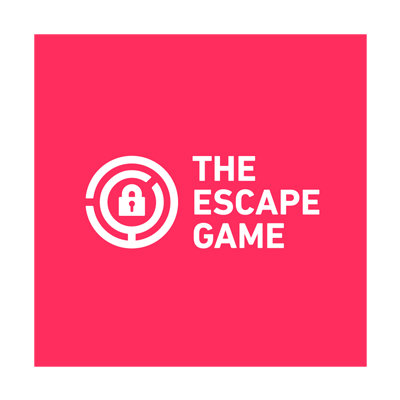 One option for ages 12 and up is TEG Unlocked: The Heist from The Escape Game. In the two-part game for one to four players, you will act as a secret agent trying to thwart a suspected art thief. Each part costs $10, or $18 for a pack of two, and $26 for a pack of three.
If you're looking for a more kid-friendly option, there's a free "Harry Potter"-inspired escape room created by Peters Township Public Library in McMurray, Pennsylvania, using Google Docs.
4- Tabletopia
If you are looking to play traditional board games online, check out Tabletopia, which calls itself an "internet arena" to play over 900 board games the same way you play in real life. You can play on the desktop browser for Mac or Windows, or download the platform on Steam, App Store or Google Play Store.
You'll find fun classics like Chess and Texas Hold 'Em, or more in-depth options like Scythe and Clans of Caledonia to play. Start your own game with friends, or join a game in progress with open seats.
You can play some fun game options for free with the bronze package, or upgrade to the silver package ($5 per month) or the gold package ($10 per month) to access the premium games.
Another similar option is Tabletop Simulator, which includes classic game options, such as chess, dominoes, Mahjong puzzles, and jigsaw. Create your own original games on the platform, as well as play games created by others.
You'll see some familiar titles here, but note that most of them were created by other users, as opposed to actual game developers. You can buy Tabletop Simulator on Steam for Windows and Mac for $20 and you can then share your screen to play with friends.
5- Houseparty
It is a video chat app owned by Fortnite developer Epic Games that lets you play popular games like trivia, Heads Up and Uno with friends online. The app is free to use. Up to eight people can join a video chat "room" simultaneously and play games together.
Another advantage is that Houseparty is available for iOS, Android, macOS, and Chrome.
6- Animal Crossing: New Horizons
This game appeared on the Nintendo Switch last March, at the beginning of the Corona virus pandemic. This video game has taken the world by storm, and its social aspect of gameplay has made social distancing a little easier.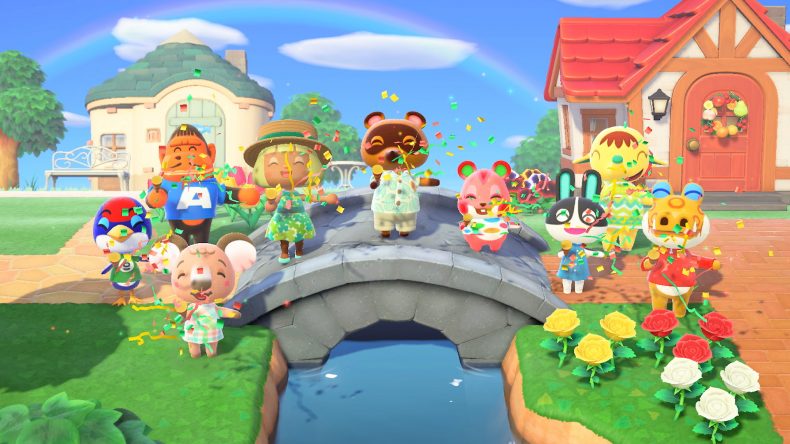 While you can do simple tasks like growing fruit, planting trees and designing rooms on your own, you can also invite friends to visit your island and go fishing and exploring together. Additionally, the October update added creepy costumes, character customisation options, and DIY projects for a virtual Halloween celebration.
7- Fortnite, Words with Friends 2, Scrabble GO, Uno & Friends, Draw Something
You may already be familiar with the popular mobile games that you can play with friends at any time, such as: Fortnite, Words with Friends2, Scrabble GO, Uno & Friends and DrawSomething, all of which are great options for simple games that allow you to stay connected and entertained in your spare time.
If you mostly play alone you may want to check out a mobile gaming subscription service. Apple Arcade has a library of over 130 original games including favorites like Party Royale and Frogger in Toytown, as well as new games like Crossy Road Castle and Ultimate Rivals: The Rink. For $5 a month. And you can play across iPhone, iPad, iPod Touch, Mac, and Apple TV.
For Android users, Google Play Pass offers access to more than 350 games including: Monument Valley, Risk, and Star Wars: Knights of the Old Republic for $5 a month as well.
8- Overcooked 2
Warning: This game may wake up the Gordon Ramsay in your group of friends. In Overcooked 2, you and your friends are line cooks who must chop, cook and prepare restaurant orders at lightning speed in order to advance to the next round. This game is designed for two to four players and works on PlayStation 4, Xbox One, Switch, PC and Mac. Whatever you do, make sure someone is on duty.
9- Minecraft
Minecraft meets our expectations exactly. The sky – or rather the server – is the limit. You can explore new worlds or build one of your own with as many friends as your connection can accommodate, or up to eight if you're playing on Xbox 360. It's sort of the equivalent of the bin. sand for adults. You can create whatever you want and build your own world. Since last year, Minecraft can be played on all platforms combined, which means your friend on PC, the one on Xbox 360, and the other on PlayStation 4 can all play together in one. same part.
10- Drawful 2
Invite your friends to a game of Pictionary by drawing silly instructions from your smartphone, tablet, laptop or game console. The iOS app and streaming versions are free for users, but if you want to play on your PlayStation 4, Nintendo Switch, or Xbox One, you'll have to pay for the game. No need to shout your answers out like you're playing at a friend's house, but you'll probably be so caught up in the game that you will. will do anyway.