We do not know what is happening to the games industry this period, but we like it very much. The scales have turned, now the AAA games are very scarce. And we rarely find a strong title that occupies us for a while. On the other hand. We see so many independent games whose ideas are excellent, creative, innovative, and add a lot to the industry. Perhaps even It was she who reminded us of the true identity of the gaming industry, which should be based on pure entertainment.
Over the past periods, we have witnessed games like Fall Guys, Among Us. Recently it Takes Two and other games. That changed our general outlook and made us make sure that it is not a condition for a game to be AAA to succeed. A straightforward but fun idea can enter the hearts of players. As long as it is Designed with dedication and love. The latest example with us today is EA's Knockout City. The latest very ambitious project that we've had the honor to try over the past few days. To give you our knockout city game review.
About Knockout City(GAME REVIEW)?
Developed by Velan Studios and published by EA and under the banner of EA Originals. Knockout City was released a few days ago on all platforms. The game offers a unique multiplayer experience because it takes a simple principle or. May we say, a simple popular game that we were all playing young, namely fishermen and take it to a whole new level.
Simple idea. Creative design!
In Knockout City, you will play with other players on a team of three. The goal is straightforward, which is to hit your opponents with balls to win. So you have to play trying to stay away from your opponents' goal and at the same time try to eliminate them.  We are talking about a chaotic, random game. Positivity is what will draw laughter on your face without the slightest doubt, and time passes by you with it without realising it, or this is what happened to me.
We are currently experiencing a period of admiration for any game that is willing to offer us a new or simple idea. But with a different template or creative vision. Even if the possibilities are limited, but at least they try, those games we have are a hundred times better than the repetitive or monotonous AAA games. And frankly we don't remember a game that attracted us from the first hour as Knockout City did. Usually, we're used to the monotonous experiences at the beginning that gets better little by little. Still, that game surprised us in terms of not counting.
As we said, the idea is straightforward and based on the popular game Fishers. Which in itself is somewhat new to us because we don't remember when was the last time. We had the fun of this kind but to take the idea and put it into the mold of a dodgeball or a squad versus squad competition that beat each other. Some balls with a beautiful template that mixes extreme tactics with a genius fun time. This is what we praise, and this is what we look forward to from any game when we start it, or so it is supposed.
Crazy elements, a mix of fun and tactics at the same time!
Usually, tactic games tend to be strict, rigid, and demanding, of course, unlike some games that aim to provide an experience of pure fun during which you spend an enjoyable time for an hour or two and thank you. Still, the Knockout City game is different. The truth reminded us of Fortnite a lot when we first started (which is not bad). Absolutely), that cartoony template of the game may deceive you. Still, under cover of positive randomness, a purely tactical game can magically combine two dissonant elements to attract two audiences, which is another element that we liked, and let me explain how the game does exactly that.
The focus of the game is the balls because they are your first and last weapon. The splendor of Knockout City is that you are placed in a very fast-paced mold, meaning that the events of the match revolve quickly, which means continuous clashes between the parties that may kill you from laughing at times because of the situations that this situation may create, especially when Your goal is to hit the ball in the face of your opponent trying to lose the two points of life that he has to be eliminated in funny ways, such as finding him flying off the map to the end of the roads. Accordingly, the fun factor remains present with these simple frills.
What about the tactic?
Here the balls factor and the gameplay factor appear in their best form. Because the game allows you possibilities such as avoiding the ball by making a quick dash to the right or left. Or the ability to turn and turn in the air to prevent strikes or elegantly hit the balls. Or even rely on blocking the strikes that charge you your hit with Overcharge You can switch your opponent with a more substantial impact only if you set the proper time to catch the ball.
Other than the game's reliance on the Verticality factor, that is. It is preferable for you always to gain the high ground to create a strategic advantage that you eliminate over your opponents. But frankly, we did not feel that heading up was the savior, playing in a standard. Superficial way was ultimately conveying the tactical message without the need to rise.  What we mean here is that the game offers you different means to eliminate opponents instead of entangling each other without any goal or luster.
We liked the idea of ​​the different types of strikes. There is a twisting blow that may rotate in a semicircle to find your opponent's face. Wherever he goes, and with it also the Lob to reach opponents who rely on the highest advantage in playing.
Each character also has a special Gilder, which enables it to fly and thus surprise competitors from behind. Which means freedom to act more like Fortnite, and of course, using that tactical advantage is up to you as you want it, which is what we found ourself doing a lot.
Even the maps have a tactical role!
In the version of the game that you tried, the game provided five very dynamic maps, which are simple in terms of design but contain elements that serve the idea of ​​playing a cooperative tactic with the rest of your team, such as Galaxy Burger, which has a circular building in the center that makes always playing dependent on rolling balls or Back Alley Brawl Which introduces the idea of ​​tubes or tubes that you repeatedly used to escape from a critical fight or to get a better view of the battlefield and, accordingly, to locate the opponents' locations, as there is a Concussion Yard that relies on the Verticality factor. We believe that the message has arrived.
We'll see amazing collaborative videos between friends!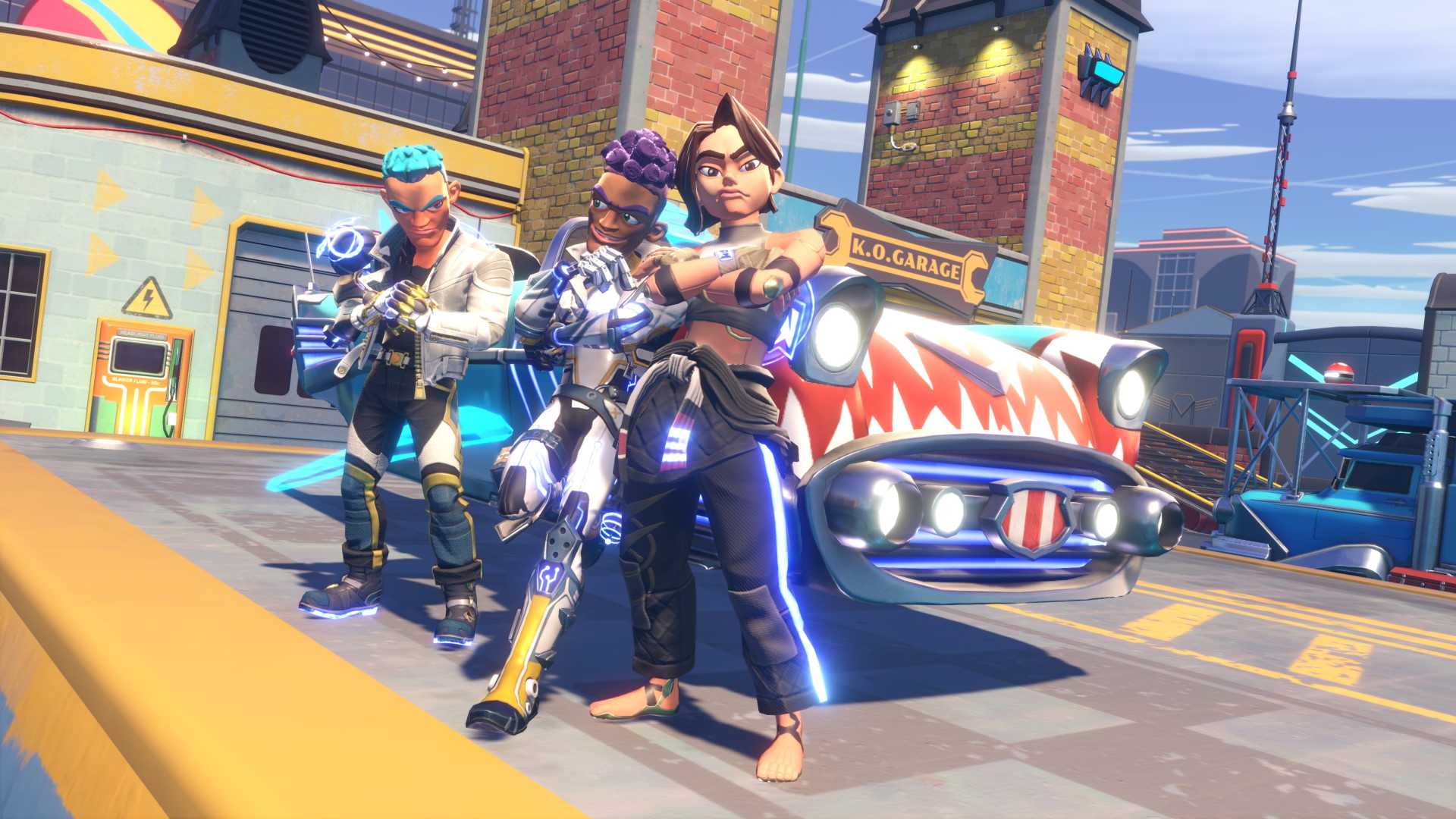 Do you want more tactical methods? We did not see a game that would produce such cooperation. As we saw in Knockout City. Perhaps It Takes Two is the last title that may come to our mind from a cooperative standpoint. Still, that game takes the cooperative principle to a level befitting it as well. So we were surprised in the first hour of playing that we could see we are changing our character to a ball that our friends throw at any enemy. He meets if he does not find any ball in the map at the right time. But the claim is the possibility of charging our blow to launch an Ultimate kick to equip all the competitors with one hit.  The Animations to do so are cartoony and very funny to return the pure fun factor to hit from New and so on.
Among the characteristics that we saw that indirectly forced us to play collectively is the idea of ​​passing the ball and charging it so that the effect of the hit doubles as long as you give it between your colleagues without selfishness, but to be honest if you become strong in the game, you can defeat an entire team on your own if you like, but the play factor remains Its importance cooperative.
What about the idea of ​​playing crazy?
Here the game focuses on the balls factor. Instead of limiting it to ordinary balls. It begins to place distinct types of balls within the map itself. Such as the cage ball that traps your opponent in the position of the ball to throw him away. The sniper ball, which is a sniper weapon in the form of a ball to strike an unchecked Far away or the bomb ball. Which explodes seconds after being caught. The multiple balls that allow you to hit more than one ball at the same time and the moon ball that reduces gravity. So that the playing style changes 180 degrees. Other balls that may make this game a field of madness that It doesn't stop and it's fun here.
Customisation system deep and Battle Pass just fine!
Knockout City offers manifold ways to modify the character in terms of shape, color, hair, etc., which is an excellent addition. Still, perhaps the most important is the presence of a Battle Pass system that depends entirely on your progress in the game. We cannot say that we did a lot of Grinds until we got the first two rewards. Hence, It's well balanced, so you can quickly get the content the game offers. We can liken it to the Fall Guys a bit, with weekly challenges that help you get more XP to increase your level or rank and the rest of the story, you know.
Multiple styles!
Knockout City has many modes, including that which may put you in a one-on-one confrontation to test your true abilities, including what looks like Kill Confirmed in the Call of Duty game. The last one contains all the balls with strange skills in one game to make the enthusiasm more excellent. According to the game account on Twitter, it has been done Open League Play mode, which we can consider the Ranked method of the game.
Other positive and negative properties!
As for the pros, Knockout City supports cross-platform play from day one. Including the PS5 and Xbox Series X, also with the PC, but our most significant problem with the game is that it is not accessible. We don't know why EA did not make this decision with a game that we see from now shines as a free game as Destruction. All-Stars was when it was released for a reasonable period. We think limiting it to the paid games will make it disappear from view with time. And for you in Fall Guys is an example. However, its price, frankly, is excellent, which is $ 20 for all that content. Add to that that you can get. It has to be discounted if you are subscribed to the EA Play service, but do you know which one is more beautiful?
You can try the game until the end of the week for free!!
Yes, you can download about 10 gigabytes of data for Knockout City. Which deserves to be given a chance from our humble point of view. Take advantage of the free week and try the game and decide afterward whether you will buy it or not, and the verdict is yours.
Conclusion
"Knockout City is the game that you will need. Now to get you out of the pressures of work, with all honesty. We wanted to have a good time and found it here. Primarily since Knockout City provided the best example of using a simple idea and converting it into a creative work first before anything else. We think we didn't have this the amount of adrenaline mixed with fun and madness as we had with that game. Which we think, dear reader, needs more than anything else. Now you are also in the midst of the upcoming E3 frenzy. In the repeated monotonous games, we are tired of stealing our time without purpose, on the other hand.
Evaluation
Gameplay style: 9
Map design: 8
price: 8
the general idea: 9
Positives:
The simple and original idea
Gameplay that carries with it a great mix of randomness and tactics
The game has a strong character
The possibility of joint play across platforms
Manifold mods and Battle Pass are not required
Excellent map design that serves the gaming experience
Negatives:
The game is not free
The game sometimes tends to be wildly random rather than tactical, but not always.